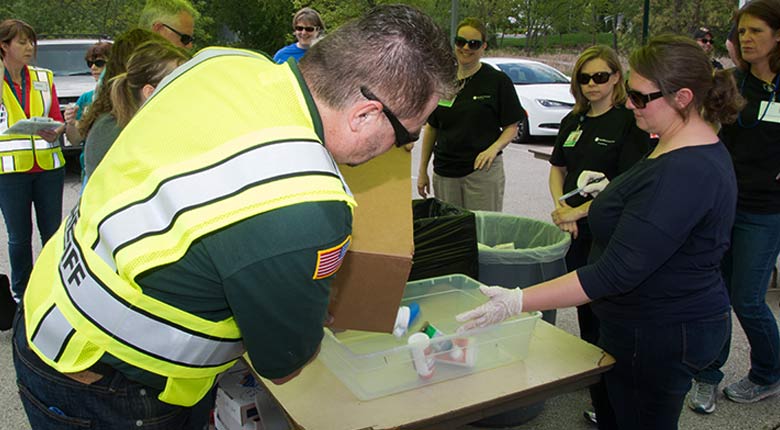 HOW & WHERE TO DISPOSE OF UNWANTED PRESCRIPTION PAINKILLERS AND OTHER DRUGS
How to Dispose of Unwanted Prescription Painkillers and Other Medications
Whenever possible, take your unused prescription drugs to a collection program or event. Many (but not all) pharmacies and police and sheriff departments have secure collection receptacles. You may safely dispose of controlled and uncontrolled substances, over-the-counter medications, ointments, patches, creams, non-aerosol sprays, vials, and pet medications through a collection program or event.
Drug Take Back Events
The Drug Enforcement Administration (DEA) sponsors two Take Back Days each year. These national events are an opportunity for community members to safely dispose of unused, unneeded, or expired prescription drugs at community events organized with local law enforcement. On Take Back Day in October 2019, law enforcement agencies across Minnesota collected more than 3 tons of unneeded medications. The next Take Back Day will be in the spring. Event information will be posted on the Take Back Events page when it is available. You can also find drug disposal sites that are available year-round using this interactive map.
Avoid Flushing Down the Toilet or Drain!
Avoid flushing or pouring unused or expired prescription medications down the drain. These potentially dangerous pharmaceutical substances can contribute to contamination of our water supply if not disposed of properly.
Local Police Departments
If your prescriptions contain narcotics or other controlled substances, contact your local police department to find out whether it will accept them. Some police departments will accept non-controlled substances too, but you should be sure exactly what yours will accept before dropping off items. You may also check with your local pharmacy to determine whether it will accept your unused medications.
Mail-Back Programs
The DEA allows mail-back programs for unused medications. Check with your doctor, pharmacy, or local police station about whether they have a mail-back program or mail-back packages available. Legitimate packages should include pre-paid postage, unique ID numbers, and be pre-addressed to a location authorized by the DEA. Avoid leaving packages in unsecured mailboxes.
Other Items
Household medical sharps, chemotherapy drugs, and mercury-containing devices should be managed separately: